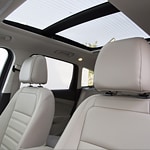 When you next need a compact SUV, the Ford Escape is something to consider. This is one of the more popular SUVs in its class thanks to the number of features that are packed into such a small package. Many of these make driving it even more convenient than you could have imagined.
The next time you visit Hamilton Ford, you must check out the automatic liftgate available on the Ford Escape. This allows you to just kick your leg under the rear bumper when you want to open the lid. It is so convenient, particularly when you have your hands full of items you need to load.
As you go to load those items, you will be pleasantly surprised with all of the room you have in the cargo hold. There is even a sliding feature back there that is quite innovative and provides you with even more room. Take the Escape out for a test drive when you visit Hamilton Ford.