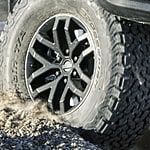 The Ford F-150 has made a name for itself as being one of the leaders in the full-size pickup world. Its numerous tough features make it well-suited for driving in any road condition, even those that are found out in boggy pastures or snow-filled mountain trails.
To start, its body features military-grade materials that make it one of the heartiest trucks for sale today. It can easily take a hit from any direction, even a front head-on hit, without crumpling or toppling over. This heavy-duty frame protects you and your passengers if you are ever in an accident.
The Ford F-150 also has unique off-road technology, called the Terrain Management System, that lets you adjust your driving mode according to how and where you are driving. You can switch it to haul and tow mode when you have a trailer hitched up behind you. You can also choose deep snow/sand when you are driving on ice, snow, or wet sand.