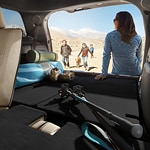 The new Ford Explorer is a popular three-row SUV that is built with comfortable and safe family driving in mind. It has performance features that are geared toward keeping you and your passengers protected on every ride.
It comes with post-collision braking that slows down and brings your SUV to a halt to eliminate additional collisions after an accident. If there is worry of your Explorer continuing to roll and hit other objects or pedestrians.
It also has trailer control technology that lets you tow safely. This technology monitors the sway of the trailer and adjusts the hitch to keep the trailer from swaying into other lanes of traffic.
The new Ford Explorer also has an intelligent four-wheel drive with terrain management system that gives your drive train extra power when you are driving in challenging conditions. It keeps your vehicle from sliding off on icy roads or fishtailing on loose gravel.