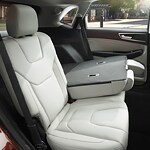 We have the popular Ford Edge midsize SUV currently available here on our lot, so to help you get to know this vehicle better, we've chosen two of its performance features to discuss with you here today.
Auto Start-Stop Technology
This feature comes standard on the Edge SE 2.0L EcoBoost FWD models and was designed to reduce the use of fuel when driving in the city by automatically cutting off the engine when it's brought to a complete stop, then it starts right back up once your foot leaves the brake pedal.
Eight-Speed Automatic Transmission with Active Warm-Up
With this feature, paddles are mounted to the steering wheel using technology inspired by racecars, giving you the ability to shift from gear to gear without your hands leaving the wheel. No manual driving experience necessary.
Come and take the Ford Edge for a test drive today here at Hamilton Ford in Clovis, NM!