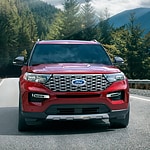 When you buy a car, you don't want to buy one that's just "good enough." If you're spending your hard-earned money, you want to buy a vehicle that's good by any measure. Fortunately, that's just what you'll get when you purchase the Ford Explorer from Hamilton Ford.
The Ford Explorer utilizes multiple unique features to set itself apart from the competition in terms of performance and capability. For example, the drivetrain in the Ford Explorer is unique amongst SUVs because it is rear-wheel-drive instead of front-wheel-drive or all-wheel-drive. This difference allows the Ford Explorer to have faster acceleration and a more capable off-road presence.
In addition, the Ford Explorer utilizes a 10-speed transmission to provide smooth and even acceleration on the highway and plenty of low-end power when you're towing or taking on an uncharted trail in Clovis, NM. Plus, a transmission with this many gear options provides excellent fuel economy for both long and short trips, leaving you with extra cash to go on more adventures.